Cheap and Pretty Trix has gotten a sense, trawling the internet, that what women are wearing to the office today is pretty much what women have been wearing from the 1930s through the 1970s.*
–'30s ditsy florals and midi length crepe dresses, an enduring body con/femme thread related to my '60s granny dress and the '90s rich Orange County surfer girl I saw decked out in prairie wench eyelet with slouchy boots.
–'40s jumpsuit/overalls/swing dance/zoot suit.
–'50s New Look full skirts, rockabilly jeans, and prep wear.
–'60s mod if not rocker minis, Italian cut suits and early '60s prep wear via surf culture. I even glimpsed a version of Jackie Kennedy's armored sleeveless two-piece on Old Navy the other day, Michele Obama's sleeveless office sheath being the 21st century version.
–'70s, Saint Laurent's pantsuit revolution and the long weird reign thereafter of dress-for-success ideas promulgated into the 21st century mainly by J Crew. Those suits always looked like Liverpudlian stalwart tailor
Walter Smith
's early Beatles suits to me — scrawny Italian cut pantsuits for chicks.
It's creepy to think that what my girlfriends and I wore in the '60s and '70s, and my older sistacousin in the '50s, are the silhouettes prized by millennials today. In one spasm of anachronistic fallacy cum youthful hypocrisy, a
men's wear blog
tracking millennials' fashion buying habits, says they eschew "labels" and prefer "indie or classic" clothing styles. It took me a moment to understand "labels" as wearing logos like JUICY written across the ass of your cashmere sweatpants. Or Louis Vuitton purses or bullshit rapper wear. The millennials are just snottier — how you say, more Anglo Saxon? — about their outlier labels.
Spalwart
, one of the athleisure wear brands preferred by millennials for its '50s Swedish classicism, is selling a snappy $300 sneaker I wouldn't wear out of the house.
They call them Rolexes for a reason.
You get rolled when you wear them.
What this means is 80 million millennials, the largest U.S. generation in history, made Birkenstocks the most Googled footwear for back to school last year, according to the industry rag, *Footwear*. (The piece says Birkenstock lust is the infuence of 1990s fashion. Head out ass, please.) This most influential generation prefers staying out of the stores and
— customizing their shoes, suits and dresses through online haberdashers, offering feedback to indie designers making a pant or input to bespoke mens' tailors
— label-less and heritage fashion — Hanes underwear, Levis 501s
— socially responsible garment manufacture, sold directly to consumer on line without a store middleman, with factory/workshop worker conditions documented on the clothing sales website, for example, Everlane
— athleisure wear, including extortionate high tops from Jordan
We baby boomers, at 75 million, have reason to regard the tastes of this juggernaut with interest.
They're wearing our daddy's clothes.
Except for the asshole sneakers.
I wondered if the straight edge vibe was universal, and wondered what was happening in Paris street fashion. Adding to my deja vu, I cruised around trying to find out what millennial French girls are wearing these days. Street fashion is my God, and it's harder than ever to find photographs passing for street fashion that are not fashion victims in haute couture heading into an haute couture fashion show.
For 60 years, I have read, every three years or so, some version of the story, 10 essentials every French girl owns.
I read one yesterday. They have bloggers doing this now, messaging Instagram French girls for their secrets.
It hasn't changed in 60 years. Trench coat, ballet flats, scarf. I channelled this myself in a recent
post
on what to pack for a weekend in Morocco. Which also included the
faux Jackie Kennedy two-piece
, 50+ years later, ganked off Old Navy two weeks ago.
So it is with a sense of supreme confidence and creepy deja vu that Cheap and Pretty Cottons Tricked Out for the Office™ styles two outfits for millennial workadaddies.
The color palette, black and white, derives from a tour of their favored Everlane website, where sensitive zeitgeist antennae might could quiver with every click. Too Amish. Too Peter Pan. Too expensive. Puritannical. But super clean and classic, nearly iconic in its purist '50s modernist, New Look/prep splendor.
Herewith, the Miles Standish Goes to Work Millennial collection. With just the tiniest bit of boomer street cred, And no blinkin' irony.
Perhaps because dressing like a rockstar, who was herself dressing like bridge and tunnel club kids in downtown Manhattan, diverted, it seems, for the first time, universal rockstar youth fashions from employable youth fashion. Performance/spectacle street clothes styled by the club kids for themselves became haute couture.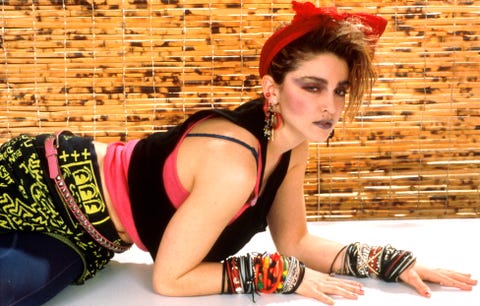 You could dress like Elvis or Frank Sinatra or Fred Astaire or Louis Armstrong in the olden days and still get a job. Petticoats and plaids, not so much.
I think of Julia Louis-Dreyfus' wardrobe on *Seinfeld* (1989-98) as the hip fashion template for '80s working girls. It was very vintagey — the '30s dits midi, two-tone swing-dancing oxfords, a jean jacket. No Tammy Faye shoulder pads or claw bangs.
There was a stylist of that era I consider the hippest chick of all time. I'll see if I can remember her name. Not
Suzanne Bartsch
.